My Crypt Heroes' Battle Beta is Over! What is the Team Composition of Top Rankers?
My Crypt Heroes' battle beta has ended. This article will analyze the team composition of top rankers.
The ranking beta test of "My Crypt Heroes", which has been discussed a lot as a Japanese DApps game, has ended.

In the past DApps games, the average of daily active user number was about 200 to 300 people, but over 900 people gathered on the last day of the ranking battle.

Since the second ranking test is also planned, if players learn the team composition of the top rankers of this time, it is sure that they can make use of it later.

Therefore this article will discuss and explain the situation of the ranking test of My Crypt Heroes and the composition of the teams of the top rankers.

Overview of the Battle Beta Ranking Match
A ranking match of Battle Beta was held for the purpose of balancing adjustment, implementing test of ranking match and other reasons. The rules are summarized as follows.

▼ About Team Composition

· Available Heroes are from the pre-sale, rental heroes, and free distribution heroes
· All "extensions" that can be equipped on the hero are rental objects
· You can set your own "skill edit skill" through changing hero graphics (13 types in total)

▼About Ranking Match
· When you defeat a player above yourself, your position will replace that player's ranking
· Challenge can be made multiple times, your rank will not go down even if you lose

Although it's a test, it has a rather simple rule.
Since player's rank will not go down even if lost the challenging, after having built up the composition of the team to a certain extent, basically players are going to raise the rank with the tactic of hitting more shots.

Review of the Ranking Test
LOOM of the side chain is packed
My Crypt Heroes uses a side chain called LOOM instead of ETH in order to carry out the battle smoothly.

Compared to ETH, the transaction-processing speed was fast, gas cost was not charged and it was said to be suitable for games.

In fact, however, only about 900 people gathered and the system was packed up, players could not play comfortably. On the final day, just before the end of the ranking test, a trouble occurred and the battle itself did not move at all.

It is assumed to be caused by the insufficiency of the node for processing the transaction on the LOOM side, and the program of My Crypt Heroes side has not been optimized. As the operation recognizes it as a task in the future, it will be improved.

Over 900 Participants, the World's Largest DApps Game
Since it uses LOOM, it was not reflected on the DAU of ETH, but in fact more than 900 players were gathered.

Considering that the DAU of the DApps games so far was around 200 to 300 people, at once DApps with the world's largest DAU was born in Japan.

Although Japan is also concerned about becoming a blockchain backward country considering problems such as laws and regulations, it may not be so surprising.

Good game balance: Non-charge team can take the first place
My Crypt Heroes did not adopt a mechanism such as charge more win more, and the operation has announced that it has created a game balance that players could win against a powerful opponent depending on the strategy.

In this time's test, many people without charge were entered, it was seen several times that they are ranked as the first place.

Ultimately, it will be hard to win unless you charged, but the game balance still allows players to aim within the ranking area where they can receive prizes.

Team composition of top rankers · Powerful hero
Commentary on the team of the top ranking player
It was not the "strongest team" because just before the end of the ranking test the battle became impossible due to the blockchain trouble, but it was the team that kept the first place right before the end.

▼Team Composition

Beethoven, Da Vinci, d'Artagnan

▼Team Explanation

Put Beethoven at the front will lower your opponent's PHY / INT / AGI by 25% with 'Song of Joy' when your HP becomes less than 50%. This is pretty heinous and if the team does not have buffing, recovery will not catch up at once.

Middle stage's Da Vinci has powerful skills of INT attacker and "Mona Lisa". When the HP becomes less than 60%, "Mona Lisa" is activated, also the whole attack of INT. There is only one legendary hero, and the damage caused can be unfriendly. Beethoven's debuff and d'Artagnan's buffs can smite the other team all at once.

The last, d'Artagnan, has excellent buffs. The status of a friend is increased by 20% at the start of the battle, and a lot of people were using it even in this ranking test.

I will put a URL for the battle for those who want to make adjustments.

Introducing a powerful hero: Zhang Fei
There are many people struggled with teams that have put Zhang Fei in the front. It is an excellent defender who has the skill of recovering 30% of HP and reviving once when he is dead.

Zhang Fei strengthens PHY only and decreases INT, it seems that raise PHY and INT in a well-balanced manner in this time's environment can make the hero to have a stronger durability.

With d'Artagnan as the back guard, the opening buff serves as a strong strategy.

Introducing a powerful hero: Kojiro Sasaki
It is an excellent PHY attacker. With the effect of his own skill, AGI goes up steadily every time he attacks, and increases the number of attacks.

As it is an attacker, it tends to be arranged as an advanced guard or at the center, but if you put it in the rear guard and raise the AGI to the limit, you can catch up in the second half swiftly.

It is very compatible paired up with heroes with buff and debuff such as d'Artagnan and Beethoven.

Introducing a powerful hero: Napoleon
Napoleonic 's skill "Corsica' s devil" gives 10% chance of rising additional damage when attacking.

Damage calculation could be considerably high with a damage of 150% INT, and it is often higher than 100 when "Corsica devil" is activated.

Elements of luck will become strong, but it is powerful considering the expected value of damage.

The ranking test of My Crypt Heroes is summarized.

Details on the second ranking test have not been released yet, but it will be easier to win if build a strong team structure now.

Why not try purchasing insufficient heroes with OpenSea and others options and aiming for the first place. It is interesting enough to challenge yourself to see how far you can go without charging!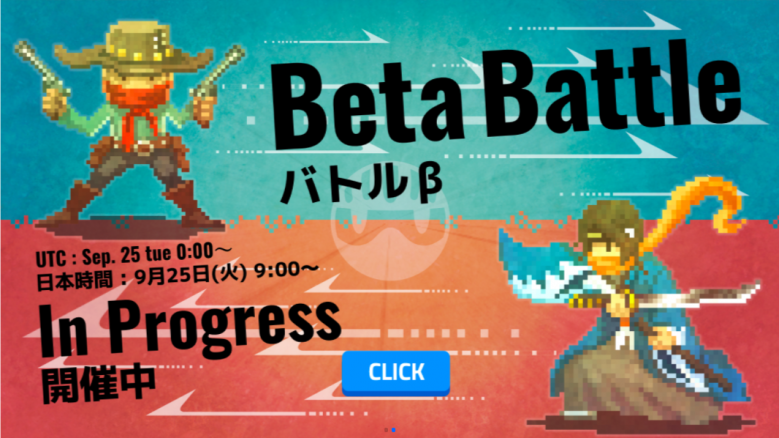 If you like this Article,
Push 'Like' button
We are Updating dApps Informations.
If you like this Article,
Push 'Like' button
We are Updating dApps Informations.