『MyCryptoHeroes × GO! WALLET Collaboration Event』GO! GOEMON Campaign!
Get a New Hero, Ishikawa Goemon,
MyCryptoHeroes (MCH) The world's biggest block chain game will give this new hero to only 50 users as a free present,
hurry up!
SmartApp Inc. (HQ: Roppongi Minato-ku Tokyo Japan, CEO: Takashi Sato) where operating DApps browser application "GO! WALLET" with DApps · block chain application management and usage wallet functions on block chain platform for smartphones devices, announced a large-scale collaboration campaign from December 25, 2018, with the double jump.tokyo Inc. where develop block chain game "MyCryptoHeroes" and ranked the world's best in the game (* 1)

(* 1 DappRadar rank data: https://dappradar.com)

<The block chain game "MyCryptoHeroes">
"MyCryptoHeroes(MCG)" is a block chain game that you can play on smartphone / PC devices. Collect historical named heroes, raise them and challenge the battle with others, RPG game which can play easily. A team formation that combines various heroes and items is the key point of victory in the battle.

Let's be the winner of Crypto World with the strongest team!

For other details about MCH, please check published information from time to time at the following official website and Medium, Twitter.

MCH official HP
https://mycryptoheroes.net/

MCH official Medium
https://medium.com/mycryptoheroes

MCH Twitter account
https://twitter.com/mycryptoheroes

GO! GOEMON present campaign!
For those who played MyCryptoHeroes during the event time with the GO! WALLET application (* 2), free present a new hero, Ishikawa Goemon, which has not appeared yet in MyCryptoHeroes for randomly chosen 50 active users.

(* 2 Limited to users who created a Wallet account within GO! WALLET, excluding those who were played using the import functions from external link. The item will be limited to one per person.)

This campaign will be available from now until December 31, 2018.

About Ishikawa Goemon

The hero who was the leader of thieves of the Azuchi-Momoyama period, but also famous worldwide by being used in Japanese culture as a person in the Edo period. This time he will appear in the game as a new hero with high rarity.

Profile of Goemon
(Age-indeterminate, died October 8, 1594) Goemon was a semi-legendary Japanese outlaw hero who stole gold and other valuables to give to the poor. He and his son were boiled alive in public, Goemon's public execution by boiling in front of the main gate of the Buddhist temple Nanzen-ji in Kyoto and his relatives have also been sentenced to death. There are many versions of Goemon's background and accounts of his life, one of his life written by Jesuits in his diary, this reminiscent of him as the real person. His legend lives on in contemporary Japanese popular culture, often giving him greatly exaggerated ninja skills and having huge reputation in Japan.


「Goemon Ishikawa」
https://en.wikipedia.org/wiki/Ishikawa_Goemon

「Goemon Ishikawa」(Japanese)
https://ja.wikipedia.org/wiki/%E7%9F%B3%E5%B7%9D%E4%BA%94%E5%8F%B3%E8%A1%9B%E9%96%80

「Goemon Ishikawa」(French)
https://fr.wikipedia.org/wiki/Ishikawa_Goemon

「Goemon Ishikawa」(German)
https://de.wikipedia.org/wiki/Ishikawa_Goemon


MyCryptoHeroes purchase event! 1 ETH present campaign
<DApps browser application "GO! WALLET">
GO! WALLET is a DApps browsing application for smartphones with a representative virtual currency Ethereum and relative functions to use Ethereum's assets · token management link with block chain game contents· DApps applications.

SmartApp is going to create a marketing platform that keep contact with users and applications and games from the whole world that are provided on the block chain system, mainly through the service of Wallet app "GO! WALLET". Furthermore, SmartApp aiming to be an ecosystem of the block chain applications by building new services and marketplaces connection with various games and applications.
As a member of the Japan Block Chain Association from the end of 2017, SmartApp planing to continue business development in consultation with industry associations and various fields in the future.

GO! WALLET公式サイト
https://www.go-wallet.app

GO! WALLET Official Website
https://go-wallet.io/

GO! WALLET on App Store
https://itunes.apple.com/jp/app/id1400626330?mt=8

GO! WALLET Official Blog
https://medium.com/go-wallet

GO! WALLET Official Twitter
https://twitter.com/gowallet_app

SmartApp Inc.
Tokyo Square Garden 14F, 3-1-1 Kyobashi Chuo-ku Tokyo 104-0031
CEO: Takashi Sato
WEB: http://www.smartapp.co.jp/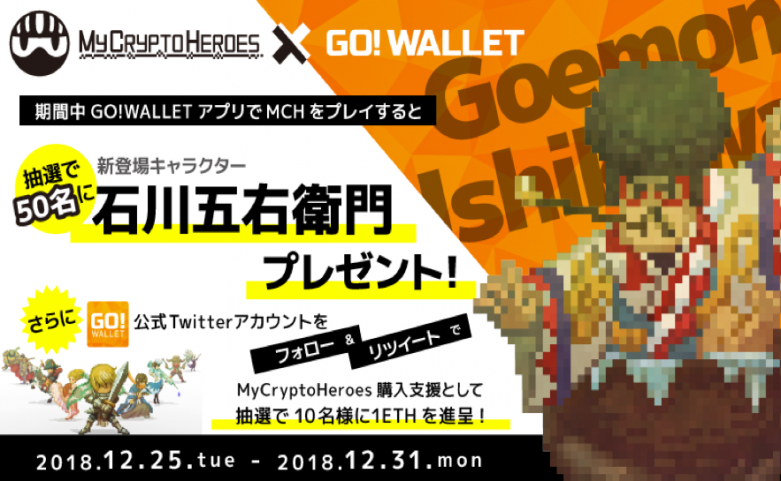 If you like this Article,
Push 'Like' button
We are Updating dApps Informations.
If you like this Article,
Push 'Like' button
We are Updating dApps Informations.