[Interview] Beyond the flames. CryptoGames Co., Ltd. Mr. Kota Ozawa 1/2
CryptoSpells, whose pre-sales has flames last October and then announced another departure.
This time, we interviewed Mr. Kota Ozawa, representative of CryptoGames Co., Ltd., who produced CryptoSpells
Mr. Ozawa: Ozawa, representative director of CryptoGames Corporation.
When I was a student, I managed a fashion brand by myself, and then I joined Cyberagent Co., Ltd. as a new graduate.
About five years after that, I experienced the launch of three games-related businesses as a responsible person, and started my business.

As a backdrop for starting a blockchain game, I thought that CryptoKitties was coming out overseas at the end of 2017, and the "Blockchain X Games" market would surely grow, including peripheral businesses.
And since blockchain games are still involved in cryptocurrency exchanges and gambling crimes, I thought there was a high reputation risk and a problem that big companies could not enter.
This is the only venture that can take risks.

Blockchain games are also a difficult field to raise funds, so I started a company with a debt of about 30 million individuals without the motivation to raise funds at first. The company currently has about 4 people. It is a venture of less than ten people even if all parties concerned are combined.

The history of the CryptoSpells pre-sale interruption
Mr. Ozawa: The pre-sale started on October 1, 2018, and it became more of a topic than I had expected.
In particular, we have received criticism from existing social game users other than blockchain users.
I was allowed to discuss with other industry officials on October 2, and there was also an opinion that it is better to continue, in the sense that I have not been able to make a mental calm judgment team, and again to review from scratch, once the suspension took action on October 3.

Hamada: What kind of places have you been criticized?

Mr. Ozawa: There are quite a few things that have been criticized.
When it is due to our company, the place that was using the TCG logo in the description part of the game is very much regret and was the worst.

There were also criticisms against blockchain games.
There were also criticisms, such as where referral rewards look like MLM and pyramid schemes, and sell cards before releasing them is a scam.

The current blockchain game is fairly user-limited, and since it comes to the place where you have a wallet with ethereum, it is understood that the pre-sale of blockchain game is high literacy.

One of the missions of Cryptospels is "generalization of blockchain", but at the stage of expanding this to the general public, criticism still comes out because it was possible to assume, I regret that the stuffing was sweet.

Hamada: Recently, there is also the impression that the movement to expand the social game users are coming out in the block chain game management side, then there is also a possibility that there is also a collision arises.

Mr. Ozawa: Yes.
On the other hand, it is a decline if you do nothing. Since the market is still in the early days, I think we should make more and more examples, such as "Burning Up this Way" and "this sales method succeeded."

While I was in flames, I was tormented by guilt, saying that I would crush the market in the early stages. The market can do when it is possible, and it cannot do when it is not possible. The market is not crushed by this kind of thing ", and it was encouraging that it was good to challenge again.

What's the key to reopening?
Mr. Ozawa: The development itself has been a long time since the pre-sale was discontinued. On November 8, we announced the following policy.

■Do not perform pre-sale until the battle function is ready to release.
■Partnering with partner companies

Even if you look at the voice of the user on Twitter, but still the most worried about the user, "The game is not released," "Whether it will be continuous operation" because I think the part,
I think we will be releasing the release soon, but we are planning to raise new funding for the company, and we have ensured that we can continue to do so for at least one year or more, and then release it.

In addition, the announcement will be in the future, but thanks to you can strengthen the management system, such as advisors, it is possible to resume after building a part that gives the user a sense of security.

Blockchain games are said to be assets asset, but at present, because the game is over and the place to use is likely to be lost in value,
It has been about two months that we have hardened the foundation of the game to continue properly.

Hamada: These two months, when you first made a pre-sale, did you have a foundation?

Mr. Ozawa: We were not going to raise funds. This time, the fund was raised to obtain opinions from various people and to increase the confidence that the service continued in the medium term, rather than raising money because there was no cash.

We are afraid to invest in places we don't know about.

I will continue to thrust in the criticism ready in the future
Mr. Ozawa: Personally, I think that I will have to criticize the last two more times.
I think that the first time you release, you will be criticized in terms of low quality compared to social games.
The second time, when the asset is actually available to buy and sell, it will be criticized of course if the price drops, and I think that even if the price goes up, you have to buy a card from buyers and investors.

Hamada: Aha.

Mr. Ozawa: When the market expands, in some cases, the number of users claiming to be a consumer agency is increasing, and I think that the gambling and speculation of the blockchain game itself is a big topic. It seems that the association and the voluntary regulation guideline are like Social games.

Social games and any game will be criticized, but blockchain games are actually worth the asset, so the user's expectation is high, and I think the difficulty of operation is increasing.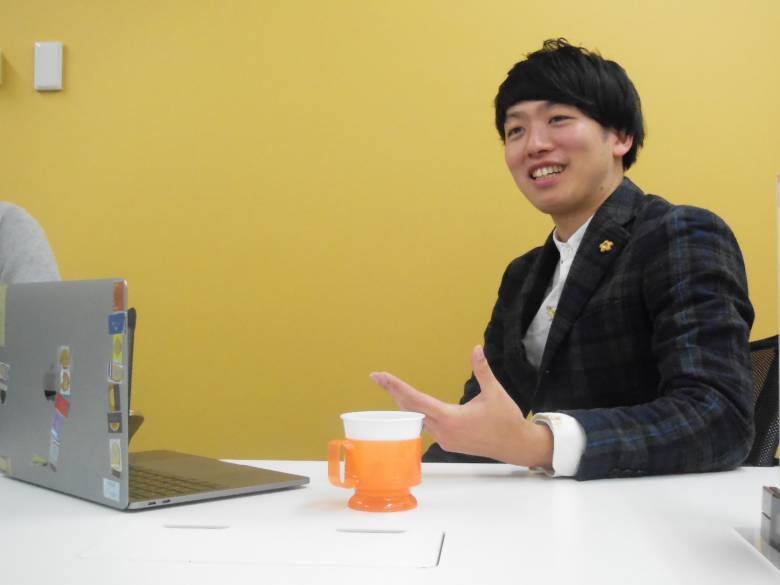 If you like this Article,
Push 'Like' button
We are Updating dApps Informations.
If you like this Article,
Push 'Like' button
We are Updating dApps Informations.