Digest of Japanese Made DAPPS Game that Can Be Expected from Now
Japanese made DAPPS games have been increasing. We have gone through a careful selecting process and will introduce the games that can be expected from now.
Recently, Japanese DAPPS have been coming closer to the boarder of blockchain little by little, and has drawn attention.
As long as there is a killer game as a trigger, the population of DAPPS game players can be expected to increase rapidly.

Some are concerned that Japan will become an undeveloped country regarding blockchain technology due to laws and regulations.

This article will introduce attention drawing Japanese made DAPPS games from those of beta versions to those that can already be played, and blow away the hesitation mentioned above.

My Crypto Heroes (MCH)'s Exciting Presale・Beta Test!
My Crypt Heroes is a game that has become a hot topic in Japan recently as its presale and beta test begin.
Due to the actions from players who could not participate in the pre-sale, a second-stage presale is been scheduled.
It has been attracting huge attention!

My Crypt Heroes is a game that uses heroic historical figures as its motif. It allows players to form teams of the heroes and riding into the battle.

Because heroes can be strengthened with level ups and extensions (equipment), simply using the hero bought at the presale would not win the battle. This is another reason why the game is drawing huge attention.

Battle will be hold between teams of 3 verses 3, and will advance automatically according to the predetermined skill set. Please do not think that advancing by automatic is not interesting. The outcome of the battle various depending on the type and order of the skill set, the arrangement of avant-garde, middle guard and rear guard, and together formed a quite profound system.

When the beta test of the battle started, I tried trial and error for about 3 hours while thinking about the team arrangement. Depending on the arrangement of the team, it is also possible to use only free heroes distributed in Battle Beta and to overthrow a team composed only of strong character from pre-sale.

My Crypt Heroes is currently during beta test. Future test schedule is shown as follows.
October 10: Function of Art Edit
October 12: Function of Ranking
October 19 12AM (jst) : Airdrop - Jack the Rippe

There is nothing to worry about for those who have missed the presale, because the second presale is been scheduled.
Also for people who do not intend to spend too much on games, distribution of free heroes is also been scheduled (expenses of gas is borne by the player).

The reason why the company has decided to carry out the second presale is because many of the users who have unfortunately missed out the first presale are eager to participate, and also because the price of pre-sale has soared due to the popularity.

The decision is not settled only based on the opinions of the management board, but on the questionnaires filled in by the users. From this process we could tell that the management is highly user-friendly.

Crypt-Oink |DAPPS game can be played at a low cost with its merits
Crypt-Oink is a pioneering Japanese Japanese made DAPPS game.
The game system is based on the basic elements of collecting, breeding and trading, however it has gained tremendous popularity by the cuteness of the pigs and the friendly operating system of the operators.
Events hold regularly is a factor that keeps keeping users to stick around.
The genre of collecting games such as Crypt-Oink can be easy to get bored, but the huge user base that has loved this game would be viewed as a manifestation of future expectations.

Implementation of Race is the Next Chance to Earn!?
Implementation of the race has been planned, and it is expected that the popularity will rise again.
Players might be able to earn by selling out their pigs after the race started, if they anticipate and predict the status of pigs that are strong for race and collect them at the moment.
As of the current time, prices of the pigs are low and stable, which is recommended as a game for beginners to enjoy with only a small cost.

"Tipping Pig" Implemented as Social Tipping!
Crypt-Oink are getting improved carefully and updated even after release.

In a recent update, it becomes able to apply to twitter login and allows users to send pigs to twitter account.

The culture of "social tipping" to show appreciation has become a trend, and it can undergo a slight change and be performed by the new way of "Tipping Pig".

Detailed method is been summarized in the help section of the official site.

Contract Servant | DAPPS Trading Card Game Drew Expectation
Contract Servant is a trading card game that requires its players to strategically position eight selected cards (servants) and cuts off opponent's encampment.

Although the servants are kept in the form of blockchain, the functions other than storage and dealings can be used without accessing blockchain, so a comfortable gaming experience is likely to be obtained.

It is now possible to obtain a new servant by fusing the servants, and there are considerably wide choices provided for players such as whether to put it on the deck, put it out for trading, or use it for fusing.

Since the status and skills are set for each servant, there is no so-called template deck as in other card games.

Since it is necessary to form the deck in an advisable way to bring out the strength of each servant, it requires player's knowledge and sense. This is unlike other games, and can be looked forward to.

It is now during the pre-registration period, and common card will be distributed to the registrants!

Japanese made DAPPS games that can be expected are been introduced in this article.

My Crypt Heroes has aroused great excitement from the pre-sale, and the Crypt Pig is been updated steadily while been loved by the users.

Contract Servant holds the potential to become an unprecedentedly highly strategic DAPPS trading card game, and thus can be expected quite considerably.

If you have any interest in these games, please visit the official page and follow the latest information!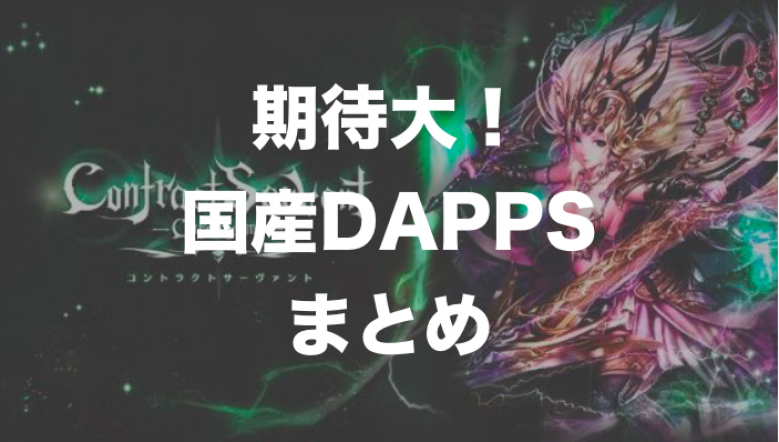 If you like this Article,
Push 'Like' button
We are Updating dApps Informations.
If you like this Article,
Push 'Like' button
We are Updating dApps Informations.