What is Illuvium, an RPG that uses NFT's scaling solution ImmutableX?
We will introduce Illuvium, an open world RPG that uses the scaling solution ImmutableX.
It has been a long time since NFTs have been difficult to issue and trade due to the rising cost of gas.

It has become common to see cases where the cost of gas for trading is higher than the asset price.

The decline in liquidity of NFTs is a major detriment to the enjoyment of BCG and is a challenge for the entire BCG community.

While 'MyCrypto Heroes' is developing AMS (Asset Mirroring System), a gas-less market, overseas developers are working on solving the issue using Layer2 (L2).

For example, Axie is considering a sidechain called Ronin.

The game I'm going to introduce here is Illuvium, which uses a scaling solution called ImmutableX. ImmutableX is developed by GodsUnchained, a trading card game operation.
Illuvium is an auto-battle open-world RPG.

By fighting and defeating life forms called Illuvials, you can collect them as NFTs. Captured Illuvials can become rare versions such as Hologram, Shiny, and Rainbow in very rare cases. It's very valuable as a collection.
The battle is an auto-battle, and the placement and combination of Illuvials seems to be important. There are five types of Ilvials: water, earth, fire, nature, and air, and their damage increases or decreases depending on their attribute compatibility.

Illuvials can be enhanced by leveling up through battle, or by fusing them together. Since there is no simple evolution by leveling up, I feel that this kind of game system aims to maintain the value of NFT.

There will also be an arena for opponents. There are two types of arenas: ranked arenas and unrestricted arenas. In Ranked arenas, levels are normalized, so player skills such as strategy, team building, and reading are important. In the unrestricted, you can enjoy battles using the full range of assets you have.

Illuvials is an NFT, but Illuvium will be using a scaling solution called ImmutableX, which will make NFT trading and issuing much smoother.

In addition, ImmutableX uses a technology called ZKrollup instead of a sidechain. This allows us to hold NFTs with the same level of security as Ethereum. With a sidechain, you can rest assured that there is no risk of being left behind by the sidechain.

With Illuvium, when you successfully capture an Illuvials, it comes into your wallet as an NFT. Both at this time and when you trade the captured Illuvials, ImmutableX allows you to execute the transaction instantly without any gas cost.

Not only is this expected to make the game experience considerably less stressful, but it will also contribute greatly to improving the liquidity of NFTs.


In 2020, DeFi (decentralized finance) is gaining momentum, and some BlockChain games have been incorporating DeFi factors.

Specifically, you can get tokens for your game by depositing NFTs, or you can get tokens for your game by depositing more LP tokens that you can get as proof of deposit by providing liquidity to Uniswap.

Illuvium will also be implementing a system where you can earn rewards by staking currency earned in the game.

The Token Genesis event is in 1Q 2021, so wait for the announcement.

This is a summary of illuvium, an open-world BCG using scaling solutions.

It could be the first game where you can enjoy the BCG experience using NFT on Ethereum without having to worry about the cost of gas.

The combat is also auto-battle, so you can easily enjoy it. The release of the game is still a long way off, but they have been giving out information little by little. You'd better follow the official info!

Official website: https://illuvium.io/
Official midium: https://illuvium.medium.com/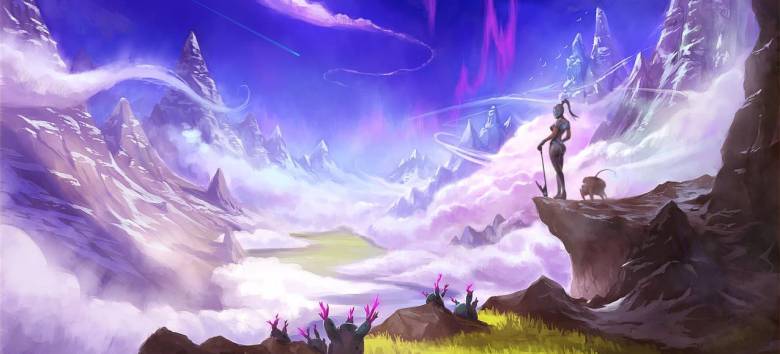 If you like this Article,
Push 'Like' button
We are Updating dApps Informations.
If you like this Article,
Push 'Like' button
We are Updating dApps Informations.