Summary of the Axie Infinity game system and How to earn.
For those of you who are just starting out with Axie Infinity, here's an overview of the game and how to sell the tokens you earn in the game.
Axie Infinity is a breeding battle game in which you mix and match cute monsters.

Although it seems to be getting more and more talked about lately, it's actually still a community alpha as far as the game part is concerned.

Nevertheless, Axie Infinity is getting more and more attention as the number of transactions is increasing and the DeFi (decentralized finance) system is linked to the game.

This article provides an overview of the game and how to sell the tokens earned in the game for those who are just starting out with Axie Infinity.
Axie Infinity Community Alpha Game Overview
Axie Infinity battles are 3v3 card battles.

The skills Axie possesses become cards and build a deck, which is played by spending Energy.

Adventure Mode (PvE) and Arena (PvP) have been implemented, and if you win in Adventure or Arena, you can get Small Love Potion (SLP).

Axie has levels, which can be enhanced by gaining experience, but please note that they will be reset when the official version of the app is released.
Battle System Description
In Axie Infinity battles, the order of action is determined by speed. The order of action for that round, including you and your opponent, is displayed at the top of the screen.

At the bottom of the screen is a list of cards that can be used in that round, and you can choose which cards to use so as not to exceed your available Energy.

Pressing the end-turn button starts an auto-battle and you will use each other's cards according to the order of action.

Above Axie's, you'll see his class and HP. Each class has its own advantages and disadvantages, so it's best to build up your attack around the Axie with which you have a good match.
What is written on the card?
The card contains the following information.

- Energy Cost
- Attack power
- Shield
- Effectiveness

The Energy cost is the Energy required to use the card. Energy is charged each turn and the card is used as long as it does not exceed the Energy that has been accumulated.

You can use more than one card of the same Axie. It is also a strong strategy to use a lot of Axie's cards in a fast order of action to defeat your opponent before they attack you.

The higher your attack power, the more damage you can deal to your opponent.

Shield is a value that reduces the amount of attacks from your opponent. When you select a card with a shield value, the damage reduction shield is attached to the Axie holding that skill.

The shield is active from the start of the round when the card is selected, so even slower defender units can get the effect.
The flow of Axie Infinity battle is as follows.

1.Draw a card.
2.Choose a card.
3.Auto Battle

The game is repeated in rounds 1 to 3, and the player wins if he or she can eliminate all of his or her opponents' Axie.

A maximum of five cards will be distributed each turn. Axie who did not draw a card cannot act in that round. This area is a matter of luck.

Check your cards and your opponent's situation/class to decide which cards to use. Finally, tap "End Turn" to start the battle.

Let's keep an eye on the battle!
Axies abilities are determined by class and skills.

The skills you possess are linked to Axies body parts, so you can guess their skills from their appearance.

The official market is the best place to find Axies.

It has a class and parts filter feature, so you can build your deck while filtering it with the skills (parts) you're looking for.

The official market is here.
https://marketplace.axieinfinity.com/
The battles will vary in difficulty depending on whether you have a good defender or not.

Individuals with multiple defensive skills, such as a shield value over 70, are very advantageous in battle.


Also, "Reptile" and "Aquatic" tend to be better suited for defenders in terms of status. I recommend using the filter function in the marketplace to make it easier to find them.

The standard attacker is the "Bird" or "Beast".

Because of Axie infinity battle system, the first move is very advantageous, which means that Axie is the better attacker because of his high quickness and high attack skills.

Some skills can be activated by attacking before your opponent. Combine them well to create a strong deck.
Let's sell the Small Love Potion.
In Axie infinity, you can obtain items called Small Love Potions by conquering arenas and quests.

Small Love Potions (SLPs) can be traded on a decentralized exchange called Uniswap.

The general process is as follows.

1) Withdraw SLPs from the Axie infinity website.
(2) Exchange with Uniswap

The in-game use of SPLs is to breed Axies. Please note that if you want to increase the number of Axies, you will need hundreds to thousands of SPLs. The number of SPLs you need is determined by the number of times your Axie has been bred, and the more times you breed, the more SPLs you need.

To withdraw SPLs, go to the Axie's web site. Log in with your metamask and other information, and press "Claim SPL" from the dashboard to go through the transaction.

Click here to go to the Axie dashboard.
https://marketplace.axieinfinity.com/profile/dashboard

Click here for the SPL deal.
https://app.uniswap.org/#/swap?outputCurrency=0x37236cd05b34cc79d3715af2383e96dd7443dcf1

Try to replace a certain amount of volume in bulk so that you don't lose money due to rising gas prices.
Here's a summary of Axie infinity Community Alpha.

The community has grown quite a bit among foreign blockchain games, and the game is easy to get into.

The fact that you can earn money by selling the tokens you earn in the game is also nice and typical of a blockchain game.

Axies can be obtained for about $10 per unit, and since you only need three units, the game is relatively easy to start playing.

If you are interested in this game, please try it out.
https://blockchaingame.world/dapp/182/Axie_Infinity
It's a blockchain game in which you train a character called Axie on the blockchain.
In the future, we plan to partner with Decentraland's virtual world, which will consist of collecting and training mysterious creatures called Axie, with content such as battles, mini-games and quests.
In the future, we plan to develop the land where Aksy lives and enjoy the story mode.

MacOS https://axieinfinity.com/downloads/axie-infinity-macos-latest.zip 
Windows https://axieinfinity.com/downloads/axie-infinity-windows-latest.zip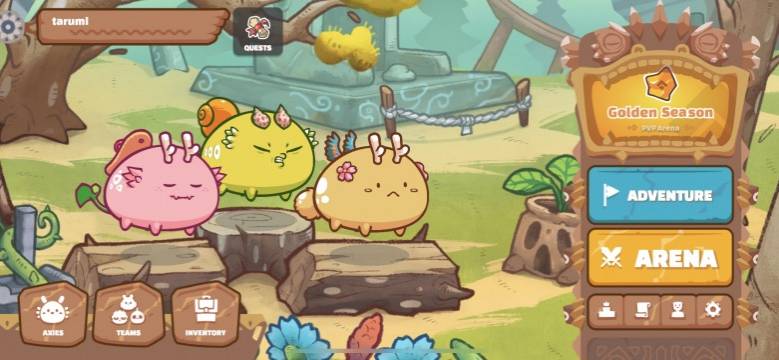 If you like this Article,
Push 'Like' button
We are Updating dApps Informations.
If you like this Article,
Push 'Like' button
We are Updating dApps Informations.