You could win an ETH! The "BCGI Wallet Linkage" campaign is start.
To celebrate the release of the wallet integration feature, we're running a campaign to win ETH and My Crypt Heroes assets!

Add Lottery results announcement. 22 May.
Follow Blockchain Game info's official Twitter account (@BCGameInfo_EN), RT the tweets for this campaign, and connect with Blockchain Game info for wallet and Twitter, and you'll get a total of 1 ETH for 2 people, plus a total of 6 My Crypt Heroes limited edition heroes as a W chance.
By making it possible to link with MetaMask (*), it is now possible to display the game assets held by blockchain gamers.
This function allows you to find out the best price for selling on the open market, and with the intuitive metering function, you can check the price of your listing without any hassle.
1, 1.0 ETH for 2 people.

A total of 6 My Crypto Heroes limited edition heroes will be given away.

Hero Name / Number of winers / Art Skill

Taira no Kiyomori /1 person /Red Strike
Ernest Thompson Seton/ 2 persons /White Candy
Inō Tadataka /3 persons/Full throttle

Due to the specifications of My Crypto Heroes , we have set the art skills in advance.
Thank you for your understanding.
1、RT the tweet of this campaign and follow the official Twitter account.
Campaign Tweets
Blockchain Game info's official Twitter:


April 20, 2020 at 23:59 - May 20, 2020 at 23:59
Lottery results announcement
As a result of the May 22 drawing, the following winners have been selected!
Congratulations!

Prize A 1ETH
0x668ed0f8a2f11b4d79c16a83a560d42e04dabf0c
0x0662596a2a8f7fe81e13f5b68f77e851a1251f73

Prize B
Taira no Kiyomori 1 person
0x551a862235fd14eb477cfe0f87571788bb602666

Ernest Thompson Seton 2 persons
0x17b59adc021a45e5f5f119f1a691928d688cfe55
0xe8fdd708f8ee2e57073537b0798419bb0a632ff6

Inō Tadataka   3 persons
0xc9fb13fac14cd2009549f4c30a58a3e9875980cd
0xea8bcc7d907dd89ac8b815e91a2ffe929fdfce05
0xba0b22526950df7b8c0965cc29431aa9e29cd5a1
We will send you a copy to the appropriate wallet address one by one until it arrives.
One moment, please!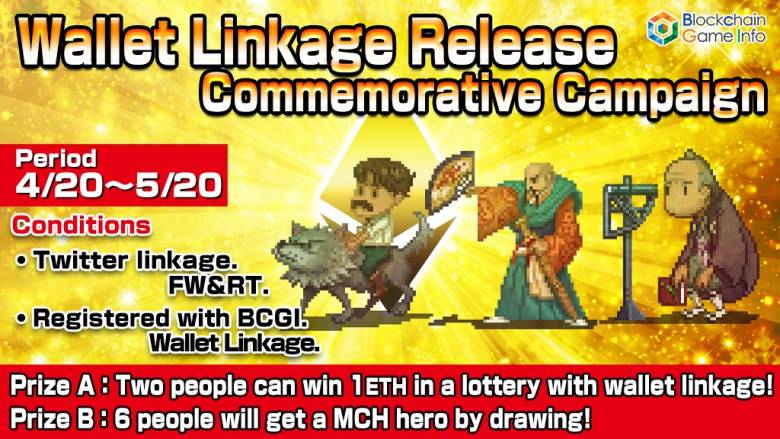 If you like this Article,
Push 'Like' button
We are Updating dApps Informations.
If you like this Article,
Push 'Like' button
We are Updating dApps Informations.