"GO! WALLET" launched multilingual version
The wallet service which can enjoy block chain games and DApp applications on smartphone devices.
English version first, then more additional languages will support
SmartApp Inc. (HQ: Minato-ku, Tokyo, Japan, CEO: Takashi Sato), the developer of block chain platform business for smartphones, launched its first service in the middle of October 2018, now announced its iOS version of wallet application "GO! WALLET" and started multilingual service from December 2018 including English. "GO! WALLET" specializing in Ethereum blockchain and interacting with Web3 DApp browser.
"GO! WALLET" is a wallet application that can easily manage the Cryptocurrency token, but the biggest feature is that it can be charged immediately and used as it is on a web3-compatible site that allows you to check owned token by Wallet system within the application. Block chain applications and games that correspond to web3 are rapidly increasing all over the world.
These games and applications are mostly used by people who using / having Cryptocurrency, and the team received many requests from partners, DApp developers and end users since the service released on October 2018.
While focusing on English version mainly, the team will develop multilingual support aggressively and expand its service to use the DApp applications and games more safely from now on. The DApp applications and games will be posted on the DApp directory menu (called GO! MENU & HOME) with several languages and supported each language localized screen one by one to pursue a convenience and sociability.
Furthermore, the service will expand the mechanism of Reciprocal Customer Transfer with overseas DApp applications and game players, and will seek the important common points between block chain games, applications and end users with a wide range.
SmartApp Inc.
4-2-45 Roppongi, Minato-ku, Tokyo, Japan
CEO: Takashi Sato
WEB: http://www.smartapp.co.jp/
The SmartApp Inc. team is a very experienced group who have developed and operated on numerous web-based platforms (ex. search engines, entertainment content, mobile social games, online community), backgrounds in finance and of course blockchain technology and the virtual currency field. We are members of the Japanese Blockchain Associations Virtual Currency Division.
For inquiries about this release
info@smartapp.co.jp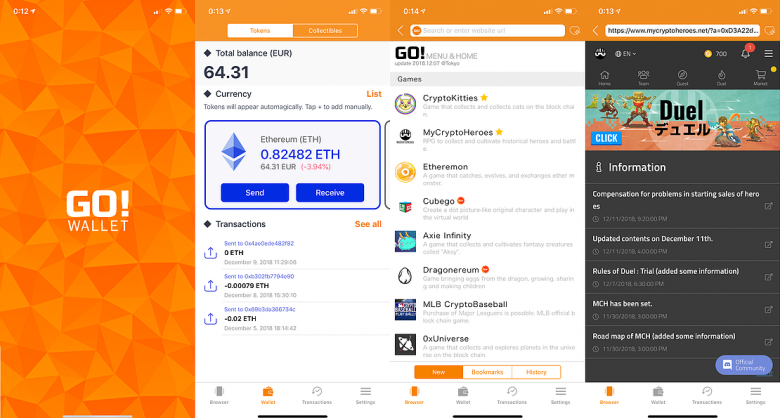 If you like this Article,
Push 'Like' button
We are Updating dApps Informations.
If you like this Article,
Push 'Like' button
We are Updating dApps Informations.