enish enters blockchain game business to implement GameFi/NFT in "De:Lithe".
On Wednesday, February 2, 2022, enish Corporation, a Japanese developer of smartphone games, will begin development of a GameFi/NFT game adaptation in "De:Lithe," an online RPG for smartphones that has been downloaded over 7.77 million times.
In addition, the company announced that it will form a business alliance with HashPort Inc. for the development of this project.
This project aims to provide a new play experience in which acquired items and raised equipment are managed as NFTs*, not as ad-hoc resources, but as player assets.

By incorporating the concept of DeFi into the game's asset formation, rare equipment and items can be turned into NFTs and traded among players.

With the addition of the Play to Earn element to De:Lithe's game system, which is filled with a variety of content and challenging elements, the game will offer a new world unlike anything you have experienced before.
De:Lithe, which has been downloaded more than 7.77 million times since its launch in 2020, is a single-player and multi-player real-time battle game that depicts the poetic story of the eternal battle between gods and humans under the theme of "life.

Under the slogan of "Link with Fun," enish is committed to providing attractive services for more customers to enjoy, with the mission of "creating enish fans all over the world.
Roadmap of De:Lithe x GameFi/NFT project until 2023
Phase 1
- February 2022: Project announcement, website launch, and official SNS launch
- March 2022: Game information release #1 - overview introduction, white paper release

Phase 2
- April 2022: Presale round 1, Game info release #2 - Economy info
- May 2022: Discord community starts, game info release #3 - game details
- June 2022: Presale Round 2

Phase 3
- Summer 2022: Game Release

Phase 4
- Winter 2023: De:Lithe φ Governor's Token IEO

Phase 5: Further development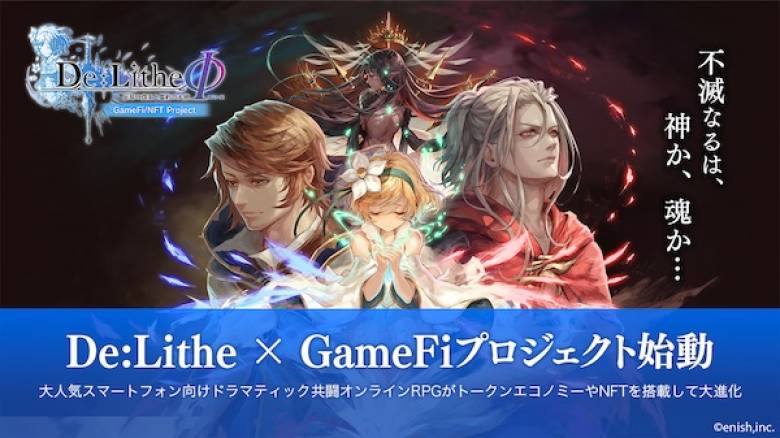 If you like this Article,
Push 'Like' button
We are Updating dApps Informations.
If you like this Article,
Push 'Like' button
We are Updating dApps Informations.